August 12th, 2011 by Joe
Since April I've been logging all of my workouts & runs here on this blog, in the workout log section.
But writing the workouts down on scraps of paper, and then later taking the time to type them up, was getting tedious. I threw together a web form to make it easier. Now I can carry my phone around the gym, taking a few seconds between exercises to record my workout.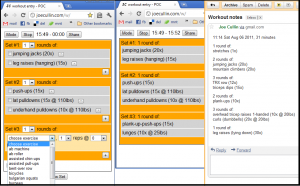 It's a small static page with nothing on the server side yet. I save the data by packing it into a "mailto" link via javascript. I've got a head full of ideas about little bits of functionality I'd like to add, but even at this rough stage I'm finding it useful. I hope I get a few free minutes to keep toying with it over the next month.