Do it without titles
Dear Gmail,
Why do you insist that every mail I send should have both a subject and a body?
I just want to send a single nugget of thought, sprinkled with #hashtags. I don't want to spend extra time typing out a meaningless extra field (especially if I'm mailing from my phone and trying to finish before the light turns green).
If you expect to continue in your pivotal role as the glue between all of my apps and devices, you should stop hassling me with these silly warnings.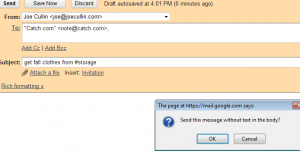 P.S. Most of the rest of everything you do is reliably awesome.
P.P.S. I stole the subject of this post from another blog, Launching a start-up? Do it without titles.