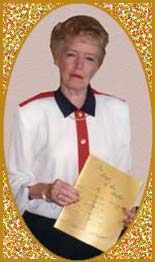 She was born Alberta Elizabeth Springer on January 24, 1920, in Chester, Pennsylvania, when her sister Sara was ten years old. &nbsp Her father, Albert, was an engineer for DuPont, and her mother Mary, a housewife.
The Springer family frequently vacationed at the Jersey shore in Ocean City. &nbsp Alberta's love of Ocean City continued throughout her life. &nbsp As a college student, she spent summers there working at the Chatterbox Restaurant.
She graduated with a bachelors in English Education from Beaver College, now named Arcadia University, in 1941. &nbsp During World War II, she worked for the Pennsylvania Railroad.
In 1946, she married Harry Lamphear *. &nbsp The couple moved with their two small daughters in 1951 from Chester to Ridley Park, Pennsylvania, where she eventually worked as a substitute teacher. &nbsp In 1957, they moved to Wallingford, Pennsylvania.
When she decided to seek full-time work in 1958, she found an opening for a librarian at Smedley Junior High School in Chester. &nbsp She thoroughly enjoyed library work and earned a masters equivalent in Library Science at Drexel Institute in Philadelphia. &nbsp In 1962, she accepted the position of librarian at the brand new Indian Lane Junior High School in Media, Pennsylvania. &nbsp She retired from there in 1980.
Upon retirement, Harry and Bert, as her friends called her, moved to Ocean City, New Jersey. &nbsp In 1989, they moved to Beesley's Point, across the bay. &nbsp During retirement, she was free to pursue her life-long hobbies, which included gardening, antiquing, bridge games, genealogy, and travel.
A fascination with history led her to join the Ocean City Historical Society in 1981. &nbsp She served there faithfully as a volunteer librarian and board member. &nbsp After assembling photographs of the 1901 sinking of the ship, The Sindia, on an Ocean City beach, she compiled them and other facts about Ocean City into a booklet, "The Saga of the Sindia". &nbsp To purchase a copy, visit the Ocean City Historical Society Museum.
Other memberships included:
Pennsylvania State Education Association Pennsylvania Association of School Retirees, Delaware County Chapter Beachcomber Questers Chapter #1064 Holy Trinity Episcopal Church, Ocean City Avalon Yacht Club Atlantic City Country Club Riverboat Club, Ocean City Ocean City Yacht Club Married Couples Club
She died May 23, 1999, in Beesley's Point and is buried in Chester Rural Cemetery.
*
Harry Lamphear's family tree
has been beautifully compiled and presented by his great-niece, Gail Faries. Harry's father, Harry Augustus Lamphear, was the brother of Helen Grace Lamphear, Gail's grandmother.